Ecofriendly recycling of lithium-ion batteries
Duesenfeld uses a patented method that combines mechanical, thermodynamic and hydrometallurgical processes. This method delivers exceptional material recovery rates despite needing very little energy input. This is only possible because it does not use smelting, which is the technique commonly used in battery recycling.
Duesenfeld operates its own process that recycles not only the usual metals, but also graphite, electrolyte and lithium. Material recycling means that instead of being consigned to use in roadworks and other construction, all metals have high recovery rates and can enjoy a second life in the form of high-quality secondary raw materials, even making the grade for use in batteries. Producing secondary raw materials using the Duesenfeld recycling process saves 8.1 tonnes of CO2 per tonne of recycled batteries relative to primary extraction of raw materials1)2). Compared with conventional smelting processes, the Duesenfeld method saves 4.8 tonnes of CO2 per tonne of recycled batteries1)3).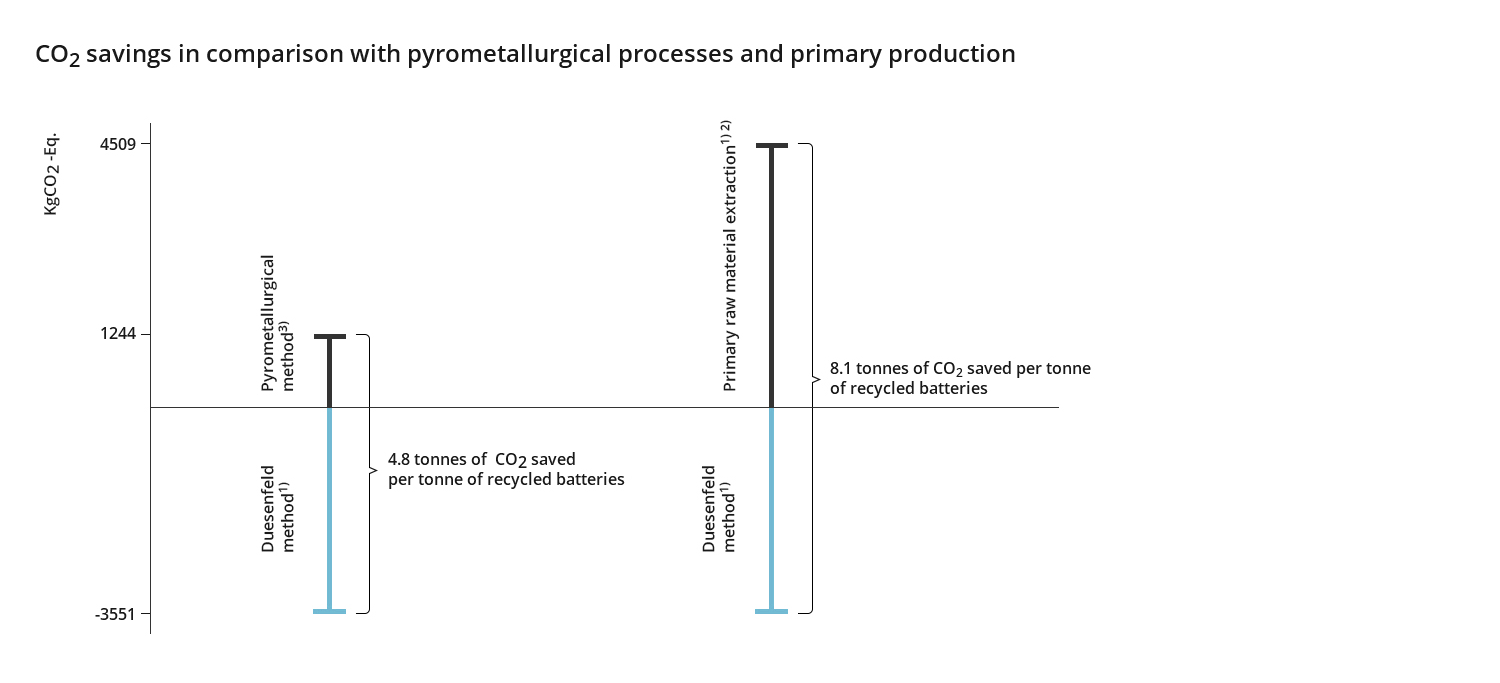 With lithium-ion batteries, the Duesenfeld method achieves a material recovery rate that is almost twice that achieved with conventional recycling methods. Supplemented by hydrometallurgical processes, a recycling rate of almost 100% is possible. The mechanical recycling process can be performed in both stationary and mobile configurations at collection points in 40-foot containers. End-of-life batteries are usually classified as hazardous goods and carried in battery transport containers. In situ mechanical processing separates the electrolyte from the other materials, and there is no need for a special battery transport container for the resultant products. These intermediate products are transported in standard containers, which means that the average truck can carry seven times as many. This reduction in hazardous goods transport eliminates most of the costs for the entire battery recycling process.

Our primary aim is to recycle as much of the material in a battery as possible. In its mechanical recycling process, Duesenfeld can achieve a material recycling rate of 72%, while treating the black mass via the Duesenfeld hydrometallurgical process increases the material recycling rate to 91%. Only the separator film and components of the electrolyte with high boiling points are currently unable to be recovered. With these rates, Duesenfeld outperforms the current requirements of the EU's 2006/66/EC Battery Directive by some margin.